Peter Hvidt
Denmark, 1916 – 1986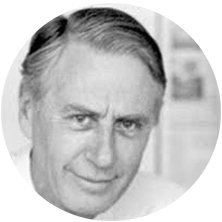 Peter Hvidt and his partner Orla Mølgaard-Nielsen have been instrumental for the global distribution of Danish design. The  pair was a pioneering force in Danish furniture design and industrialized production in the 1950s, creating furniture that was easy to mass-produce and economic to transport.
After completing his training at the Royal Danish Academy of Fine Arts in Copenhagen Hvidt worked for various design studios. He had his own studio for a short time and began working with Orla Mølgaard-Nielsen in 1944. The two worked together until 1975 and produced some revolutionary designs for makers like  Fritz Hansen, France & Søn, and Søborg Møbelfabrik.
In 1950, Hvidt and Mølgaard-Nielsen introduced the "AX" chair which became the main milestone of their career. The "AX" chair was the first Danish chair made of double curved laminated wood. The chair was manufactured by Fritz Hansen and was built using Hansen's laminating process, based on the technique used to make tennis rackets. The process was a breakthrough in mass production of furniture because it sped up production without compromising standards for high-quality wooden furniture. Partly due to this revolutionary technique, Denmark became a leader in modern design.