Johannes Ansersen
Denmark, 1903 – 1991
Johannes Andersen was born in 1903 in Aarhus, Denmark. He apprenticed as a cabinetmaker before opening his own architectural and furniture workshop in the 1930s. He also worked with other design studios, including such as Trensum, CFC Silkeborg, Bramin, and Uldum Møbelfabrik.
Andersen's designs span seating, tables, and storage in well-crafted materials, such as rosewood and teak. His career paralleled the midcentury's appreciation for Danish furniture designs. He attracted international attention and praise, particularly for his coffee tables like the sculptural Smile Table.
When Andersen opened his own studio, the popularity of the Danish Modern had increased to far beyond the Danish national borders. Danish modern furniture was renowned for its distinctive shapes, smooth contours, simplicity and functionality. Andersen followed this aesthetic in his designs. The features of the Danish modern ethos are present in his designs, but interpreted in a unique way. Flowing curves feature many of Andersen's prominent designs and he used them in new and surprising ways.
Andersen designed an extensive collection of furniture but is best known for his coffee tables. A Johannes Andersen coffee table is not what most people think of when imagining a 'coffee table'; a rectangle or, if they are very imaginative, an oval. Not Andersen's designs; he experimented with all sorts of unique shapes and techniques. Two of his most famous coffee tables are the "Capri" and the "Smile" models. Like many of its tables, both curved surfaces and bevelled edges soften the design and show the more organic approach to shape.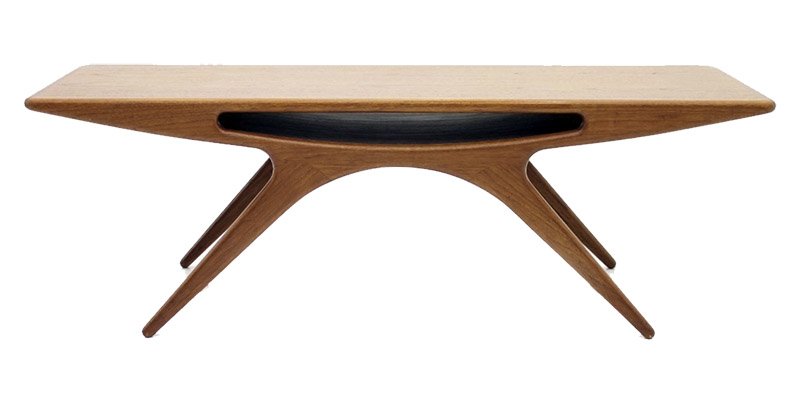 Shop Johannes Andersen Designs