Grete Jalk
Denmark, 1920 – 2006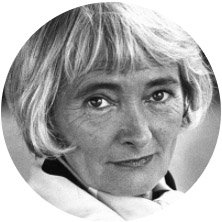 Grete Jalk was a driving force behind the global expansion of Danish Design. Her simple but stylish organic furniture, wallpaper and fabric designs made her a very influential Danish Modern designer.
Jalk studied modern languages ​​and philosophy before joining the Copenhagen Design School for Women. In 1942 she moved to the Danish Royal Academy, where she studied under the famous designer Kaare Klint. She completed her education in 1946 and won the first prize at the annual Cabinetmaking Guild Competition.
Jalk was known for embracing her "thoughtful designs" that were well-suited to the needs of people and "social and technological progress." Perhaps one of the best examples of this progressive thinking is her "combi sofa-bed storage and desk". Designed in 1947 for the modern, professional woman, used in her own room with study and sleeping functions.
Through clear and comfortable lines, many of Jalk's designs were particularly suitable for fast and cost-effective mass production. Interestingly, her most famous design was not. The GJ chair, described as a "stunning example of postwar design innovation", was so complicated that mass production was not possible. It is estimated that only 300 pieces of the chair have been produced. Although less complex than the GJ chair, Jalk's other designs still show the high level of art, utility and craftsmanship for which the Danish Modern was known. Jalk has made many armchairs and sofas. Grete Jalk armchairs and sofas are covered by simplicity and comfort, with the soft curved lines in armrests and backrests.