Arne Vodder
Denemarken, 1926 – 2009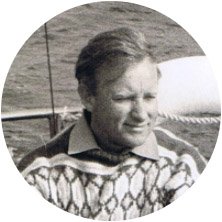 Arne Vodder, was trained by Finn Juhl and eventually became his business partner. He studied under Juhl at the Royal Danish Academy of Fine Arts in Copenhagen. After graduating in 1947, Vodder had a long and diverse career in which he focused on both furniture design and architecture.
His designs are often inspired by nature and have organic, elegant shapes. Vodder worked for famous Danish brands. He designed dresses, tables, chairs for furniture makers like Fritz Hanson, France & Son, Nielaus and Sibast. In particular, his Sibast collections were a great international success. In the US, these designs even ended up in the White House.
Although less familiar to the general public, Vodder's designs are very popular among collectors and experts. Particularly pieces like the FD-164 armchair and the Model-29 dresser are very much in demand. When Vodder was asked in 2009 to choose a favorite from his many designs, he chose the Model 29 dresser. The iconic piece has drawers with beautifully shaped handles and has the asymmetric design that Vodder often experimented with.